The mystery of the object reveals itself completely from a backyard's side – the building was raised literally a few meters from a pre-war bunker, which was covered with earth. It was discovered by an investor – DEMIURG company, during excavation work, preparing ground for laying fundamets.
Presence of the monolithic, concrete structure directly influenced the architectural style, building's characteristics and materials selection used to finish interiors.
The most spectacular element of the building is the open, steel staircase going through all the floors of the building, finished with a skylight.
The highest wall in the building, attached to stairs, was given into care of the most notorious and well liked Poznań's street artists: Noriaki, Bart Sucharski and Fresk. Their task was to cover the wall with naughty, dirty, street art – ish hotchpotch, in which they intricately hid quotes from the life of "Demiurg tribe".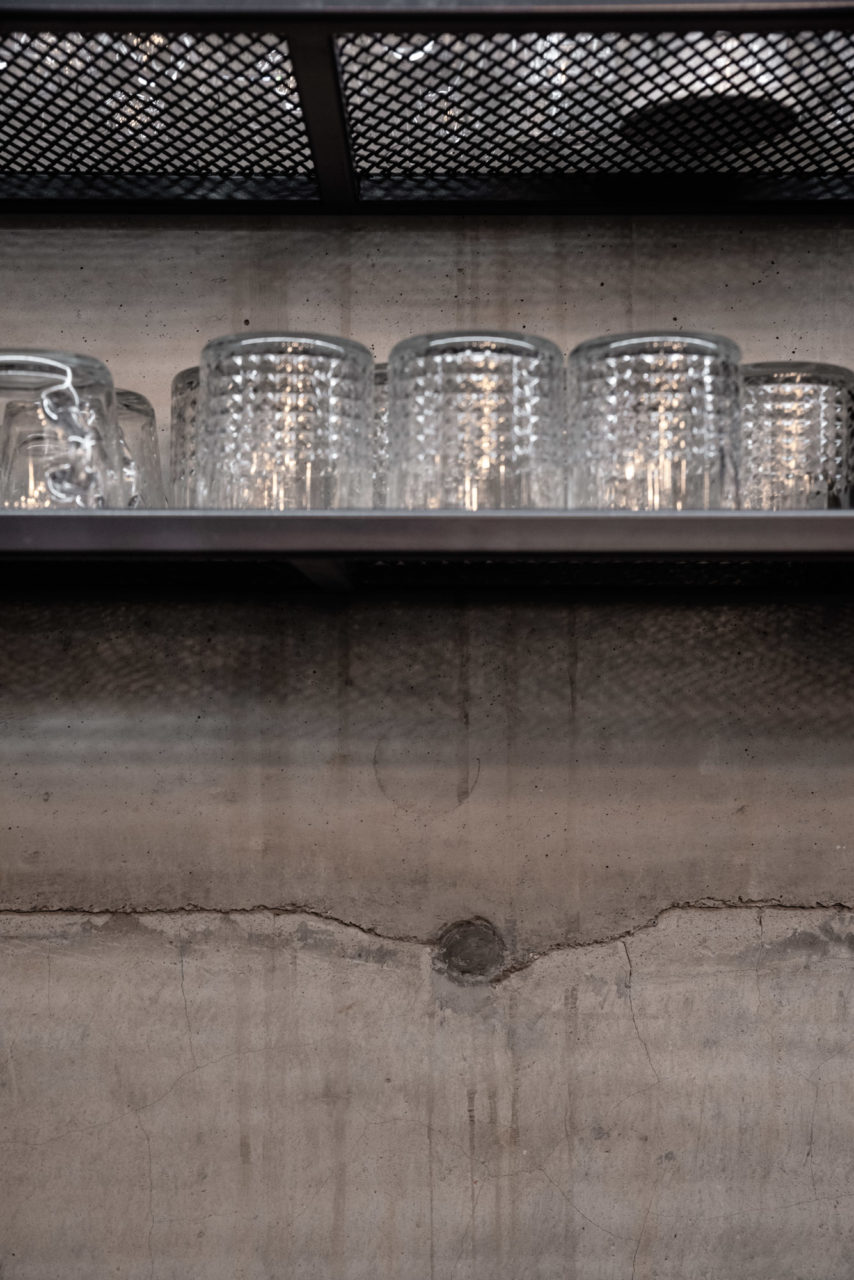 Rawness of the floor, ceilings and walls beautifully contrasts the materials used to finish furnishing – that is organic plywood with colorful edges. Colors used directly reflect internal branding- a code assigned to various sections that all add up to the company's structure.
What is immediately noticeable when inside of the building is remarkable, consequential rawness of materials used. Not only is the concrete floor and ceiling a nod to the already congealed bunker just outside the windows, but also a homage to the naked, real construction of the building.
Other elements that share this sentiment are concrete elements of the wall's construction and it's remaining extension made out of silicon blocks that were painted in monochromatic fashion.
In order not to interfere with the integrity of furniture, all shelves, worktops, kitchen installation and wall surrounding it were separately designed by mode:lina™ and made out of natural plywood. Here and there there are also details that ought to reflect the world of building – steel i-beam functioning as kitchen's girandolle, protective helmets over the reception, wheelbarrows with plants of all sorts and reinforced cages – also with plants.